INTRODUCTION
The development and dissemination of new technology is an important factor determining the future of Indian Agriculture. Agriculture has always been in a transformation mode.
For last more than 150 years human beings have been engaged in improving the soil preparation, crop and animals they raise. The process of development and refinement is slow and not to the requirement of Indian Agricultural Industries.
Conventional selection and uses of the systems are time consuming and bear technical limitations. This is a time to expand and grow to match the requirement of growing population and its need in Indian Agricultural Industries. As on today the process of using Agricultural Implements are considerably more scientific.
A revolution in Agricultural Technology is the need of the time. Also technologies must be both affordable by and geared to the needs of the people of the country.
In future farming as an economic activity, largely for the developed world and livelihood  for many in the developing country like India. Present situation of large farms, low level of labour input has forced to think on mechanization of Agricultural cultivation in the Agricultural  Industry in India and as a need of the society we are working in this field since last more than 61 years.
BACKGROUND
Popular P.S.W. is a group of companies engaged in the innovation and development of Agricultural Implements used for soil dressing, soil preparation with the help of Manual, Animal and Tractor drawn powers. The company is formed by the most innovative mind of  Late Shri. Keshavrao D. Jadhav. who was a son of soil and from a farmers family in 1948 Known as Popular Steel Works And Gas Welding Works with a small work shop and doing production of simple and good quality of Agricultural Implements used by the rural farmers of the area and region. He was popularly Known as "Abba" means elderly respected personality caring for all.
Popular P.S.W. is a name who gave a substitute to the then imported single Bottom Reversible Plough from England in 1958-59. Popular P.S.W.made it available to the Indian farmers the most useful and time needed technically developed Single Bottom Reversible  Plough by using totally indigenous material  FIRST TIME IN INDIA at the most affordable price and of Indian version.
Today Popular P.S.W. is a name as one of the leading company manufacturing a wide variety range of Tractor drawn P.S.W. branded Agricultural Implements under visionary leadership of Shri. Diliprao K. Jadhav the Chairman of the group and family who took over the reigns of the company in 1991 and converted the company into a Private Limited Company. Who indeed with farming background and known to the need of the Indian farmers.
The company has more than 170 different types of Tractor drawn Agricultural Implements, these include the Single, 2/3 & 4 Bottom Reversible Plough which is a monopoly product of    Popular P.S.W.  2/3/4 & 5 Bottom Rigid M.B. Fixed Plough, Rotor 2.5 / 3 / 4/5 & 6 feet in size. Disc plough 2/3 & 4 discs, Disc Harrow Seed Cum Fertilizer Drill, Cultivator, Tiller, Ridgers, Sugar Cane Planter, Off Barring & Healing up Implement and many more suitable and compatible with all makes of Tractors of the Indian Market and Abroad.
In addition to this, company manufacturers 21 types of Animal drawn Agricultural Implements used for the cultivation purpose in Indian Farming Industry.
Further the company has come up with the most modern Agricultural Implements Operated by Hydraulic Power of the tractor such as 2 / 3 Bottom Reversible Plough, Front end Loader and Dozer Blade, Disc Plough with 2/3/4 discs, Disc Harrow with 14/16/18/20/22 and 24 discs suitable for higher H. P. tractors.
Besides from the manufacturing process we have very well supported sales network on our own at various locations in the country by way of which Popular P.S.W. gives better sales and after sales services to the most farming masses. We have even equal number of dealers and service stations apart from our own sources in the country to render the timely and effective services to farmers and thus to help the country's growth.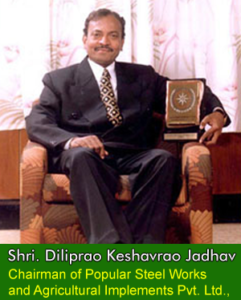 Presently Popular P.S.W. is the major market share holder of the Agricultural Implement business in the prominent states like Maharashtra, Karnataka, Tamil-Nadu, Uttar Pradesh, Haryana, Gujarat, Andhra Pradesh, Madhya Pradesh and Punjab.
Popular P.S.W. Agricultural Implements are Tested and used by the prominent center Government recognized Testing and Training Institute of the country. Popular P.S.W. branded Agricultural Implements are qualified for Central and State Government subsidy schemes as well.
Popular P.S.W. a company registered under S.S.I. policy of the Government with all required facilities such as Machine Shop, Assembly Shop, Testing and Training facility and most importantly Research and Development Department of its own. We have our own farm to test and use it till we are satisfied by the Agricultural Implements innovated by us before launching it to the open market commercially. Due to this strict procedure of testing and quality control, today Popular P.S.W. is recognized by all the Agri. Business Promoting States of the country and Abroad.
Further to get good quality components for Popular P.S.W. branded Agricultural Implements the group has a sister concern Foundry unit named as "Sunanda Steels". Popular P.S.W. works strictly on quality consciousness and to protect the same the company gets the various quality and chemically analyzed Agricultural Implement Components in mild steel and manganese steel from its own sister concern Foundry under experienced supervision. The Foundry unit is well equipped by most modern testing equipment such as the latest German made Spectrolab to get analyzed report of the elements present and its ratio in the components.
EXTENTION WORK OF THE COMPANY
Popular has started extension work in the field of educating the farmers by way of publishing and circulating a monthly magazine called "Popular Mashagat"free of cost in the year 2001. The magazine is covered by all aspects such as latest technical development in Agricultural Implement field, new practices of crop cultivation, improvement in productivity, yield of crop, pesticides control and most importantly the experiences of farmers and experts from the field. In addition to this a question & Answer/ doubts section from farmers and solutions to it by experts, scientist who are on our panel from various Agricultural Colleges of the country and research institutions.
 The extension work of the company has been given full support by the farmers and resulted in to confirming many National & Inter National prestigious awards to its name.
EXPORT TO AFRICAN CONTINENT
Popular P.S.W. is exporting, selling and Servicing Agricultural Implements in African Continental through its own outlet in KENYA since last 7 years. Popular P.S.W. branded Agricultural Implements are today well known to the African farmers and are satisfied with its performance and usefulness. In Ghana the Govt. supply was done with in hand with the world leading Tractor manufacturing company John Deere.  As a result Popular P.S.W. is in thick population of its proven and useful Popular P.S.W. branded Agricultural Implements in KENYA, GHANA, UGANDA, TANZANIA, NIGERIA and many other countries.
Popular a group of companies & full house of Agricultural & Soil preparation solutions aim to work for betterment of farming masses with full devotion and sincere feelings towards society.